eCommerce Web Development Tips That Will Boost Startups Growth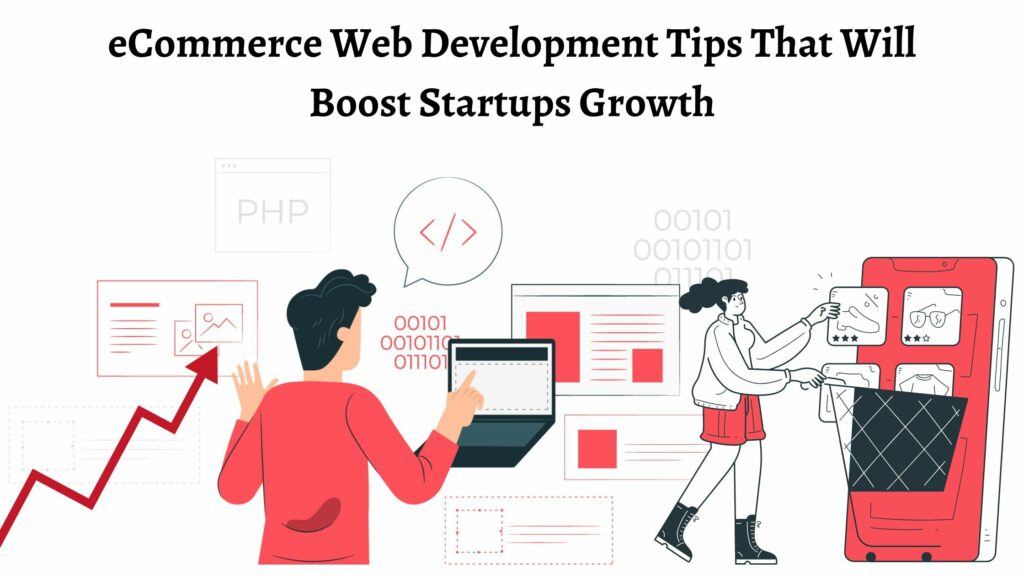 The digital world is increasing, especially the eCommerce industry. Businesses not only require an attractive website, but must also market it correctly to attract more customers and traffic. Extensive opportunities are available for the same, with plenty of competition to be the best.
The eCommerce industry is expected to grow rapidly in the coming years. Hence, you need to bring the best foot forward, which you can do with the right eCommerce website development company. They'll ensure the front of your store is well-organized to attract more users to your website, among other things.
This blog will discuss several eCommerce website development tips to help startups grow. Let's get started!
Tips For  Startup Growth Through eCommerce Web Development
Your eCommerce website should be up-to-date with recent advancements available to attract more customers. Several things need to be considered, whether you want to build your website from scratch or redevelop your current website. Let's discuss some essential things to consider for eCommerce startups.
Theme And Platform Selection
Selecting the right platform is essential, as it forms the foundation of your eCommerce business. You'll also need to consider your project requirements and budget while looking for the right company.
Shopify, Magento, and PrestaShop are popular and widely used eCommerce platforms at present. Additionally, you should also consider whether the selected theme is responsive, customizable, and compatible with all browsers and devices.
When you hire web developers to build your eCommerce store, they can help you make an informed decision. Besides selecting a suitable theme and platform, you can also get a customized and unique website based on your business value.
Enhanced Shopping Experience
The next thing to consider is providing a smooth process with a painless transaction to the customers. For an enhanced shopping experience, provide more information about shipping costs, return policies, etc., on the home page.
When you seek assistance from an eCommerce website development company, experts create a user-friendly website for an enhanced shopping experience. They include features such as a wishlist, add-to-cart, multiple payment methods, simplified checkout, etc.
Use the best SEO strategies to ensure your website ranks higher in search engines. Also, your eCommerce store should be fast-loading for better performance and user experience. Slow loading sites may annoy your users, resulting in them leaving your website.
The eCommerce website development services can offer highly optimized, responsive coding and fast-loading websites across browsers and devices. With it, you can provide a seamless user experience.
Also read – Best Technologies for eCommerce Web Development
Security: Building Trust & Data Safety
In order to gain your users' trust, you must ensure their data is safe with you. Encrypting every page using HTTPS protocol, not just payment information pages, will build trust immediately. Additionally, transactions require high levels of security. Hence, your site must be PCI (Payment Card Industry) compliant if you accept credit cards.
When you hire web developers, your eCommerce store is secured by stringent measures like SSL and two-factor authentication. They make your customer's shopping experience safe by creating a secure online retail solution.
Integrating The Latest Technologies
Customers want websites updated with the latest technologies for a better experience. Various new trends have become popular in recent years.
With the latest trends and innovations, eCommerce website development services can create cutting-edge websites. Some modern trends in the eCommerce industry are AI, chatbots, AR/VR, etc.
Wrapping Up!
These were some crucial considerations for eCommerce startups' growth. Apart from these, you'll want to consider your budget and the company's location when hiring an eCommerce website development company.
For instance, developers in India are cheaper than in the UK and USA due to different living costs in the region. Hence, you may want to hire web developers in India or other European countries. Whatever you choose, make sure you get quality work at a competitive price.