Easement for the Uneasiness of Interview Delays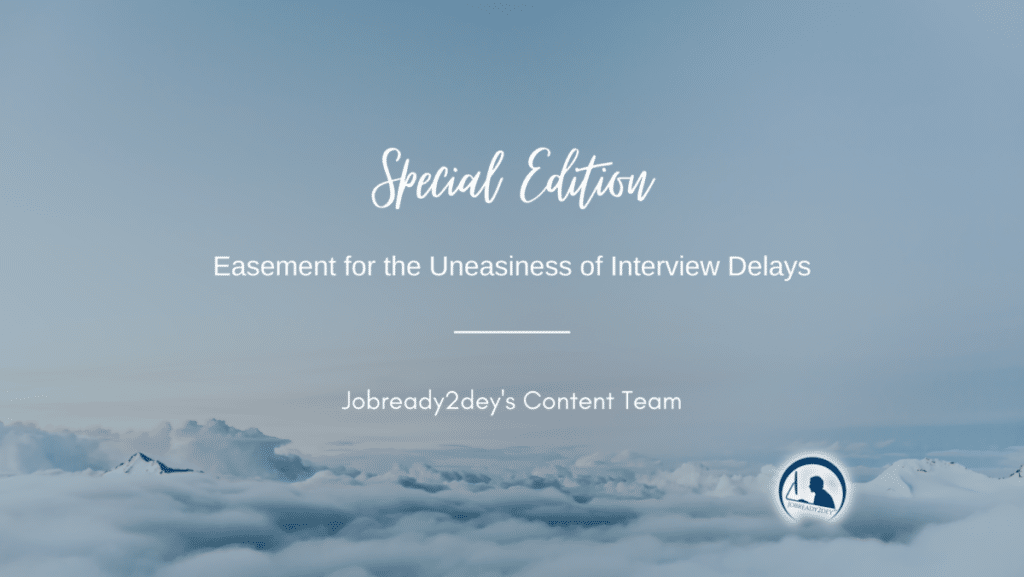 Some situations happen in real-life that can be a learning experience for others. A prime example of that recently took place. For the purposes of this blog and to maintain anonymity, the name of the person involved will be changed. However, the basic scenario will be presented and afterwards, an informational interview will take place.
Molly, a US Army National Guard member, graduated from college and received her commissioned officer status in December 2021. Her civilian job goal is to work full-time as a teacher for a school district, preferably not far from her small, rural home town. At the time of this writing, she is substitute teaching in her home town. As we all know, that can be a challenge.
In early February 2022, Molly applied for a position in a bigger school district in the same county. By the end of February, the position was no longer listed indicating that no more applications would be accepted and the hiring process would be beginning soon. In the middle of March, Molly made inquiries as to the current status of the position. The reply, the principal had not even begun the interviewing process. No explanation for the delay was provided.
In a discussion with family and friends, Molly asked, "Why the wait? Afterall, the principal has a perfectly qualified candidate – me – waiting".
While Molly's confidence and enthusiasm is admirable, one might wonder if something is off-kilter.
Time to be a "fly on the wall" as Jobready2dey team members discuss this situation.
Lynn: What reasons might a school principal or any hiring manager have for delaying the interview process, once it has begun?
Kurtis: Let me answer this question in a general sense, as processes, circumstance, and challenges differ between organizations. While hiring does not take forever, it does take time. According to the organization, this process can be longer or shorter – it all depends.
If the interview process hasn't begun, the district could still be reviewing applications. While we are not sure of the number of applicants, we do know that some openings receive a large number of applications. It's awesome that Molly feels that she is a qualified candidate. However, out of all applicants, If Molly was identified as a potential candidate match for this role, her interview opportunity may come soon.
Why is it taking so long? The individual or team assigned to interview candidates for this role could be busy with other operational tasks, which prevents them from handling this. It may not be anyone else qualified to step up. If Molly really wants this opportunity, she has to wait it out and see how things go.
Lynn: Your explanation makes sense to me. Two questions. First, how long should Molly wait for this particular school to begin the interview process before discontinuing her pursuit of this position? Secondly, should Molly continue to seek other opportunities while awaiting a response regarding the position at this school?
Kurtis: To your first question, that will be up to Molly. Based on the information provided, it seems that this is a position she really wants a shot at. If there is really an internal issue at the company stalling the process, it could take a while. The next part here will lead into your second question. While she could maintain hope that things will fall in place for interviews to begin, she shouldn't set her sights on that position alone. Why? Many scenarios can play out, resulting in the dissolution of that position's viability.
This includes never hearing back from the district. She could wait and look for other opportunities of interest. You never know, she may find something better and the process can be much quicker.
Lynn: I guess the takeaway here is it's better to diversify searches so that job seekers avoid the "all eggs in one basket" scenario. I agree with this and that something better could come along for Molly and her fellow job seekers. Especially, if they remain open-minded instead of laser-focused on one position that may or may not remain viable. Do you have any other words of wisdom for Molly and people in a similar situation?
Kurtis: Yes, I do. Regardless of circumstance, don't lose hope. It's easier said than done, I know. When you are looking for work, and things are not happening as you believe they should, the wait can be disheartening. The unknown surrounding the process (as you see in this scenario) is what eats at the mind of many job seekers. I hope this gives insights into the possibilities to put the mind at ease. Also, remember this: with diligence, strategy, patience, and timing, your opportunity will come along.
As the flies leave the wall, here are some closing thoughts. When you're a job seeker, time seems to stand still while awaiting word from hiring managers. Of course, it doesn't, the complexities of real-life continue. The best course of action is to keep moving forward. If a position is meant to be, things will work out. If not, one of the other positions for which you apply may come to you easier. Yet another option, someone will recognize your work and recruit you into their place of business. Please keep your eyes open for positions and your mind open to possibilities you might not have thought of before. Just in case you didn't know, "out of the blue" recruiting does happen.
The @Jobready2dey team knows the struggles that job seekers endure, we've endured them. That's why our mission, "Changing Lives, One Job Seeker at a Time", matters to us.
Article credits:
Lynn Hallbrooks is a Certified Career Coach and the Staff Writer at Jobready2dey, LLC. She is a seasoned content creator and has a wealth of experience navigating the troubled waters of today's job search. Through her extensive training, field experience and passion for lifting job seekers, she endeavors to help job seekers become Jobready2dey!
Kurtis Tompkins is the President of Jobready2dey, LLC. He is a Certified Resume Writer, Interview Coach, and Career Coach. He is recognized for his effective job search methodology and for helping job seekers on six continents find rewarding career opportunities. He is also a member of the National Association of African American Resume Writers (NAAARW). He has held various leadership roles throughout his career, served as a Hiring Manager for a Fortune 500 Company, and sat on myVAB's advisory board in the recruiting and hiring space.
Graphic Credit: Jobready2dey, LLC content team.