Different Types of Coasters You Can Use on Your Table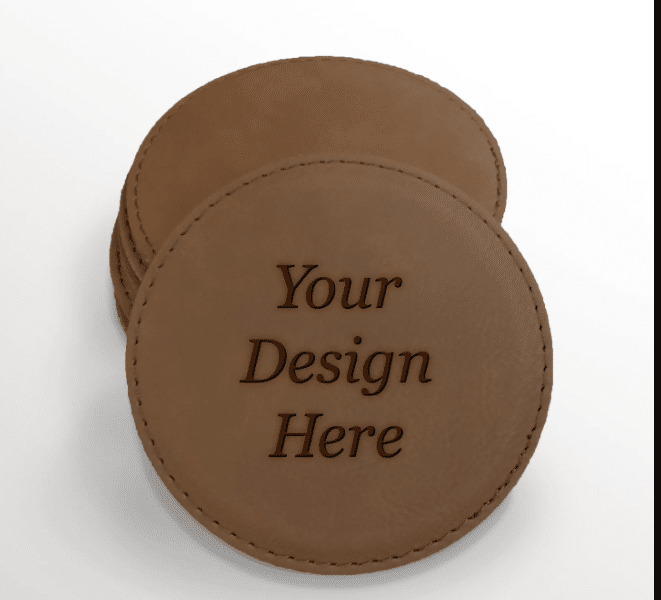 Coasters are a small piece of accessory which helps you protect your living room table; dining table; car seat, cup holder and dashboard; and bedroom side table from beverage spills and stains.
No matter if you are at home, at a party, in your office, driving your car, or riding or taking a lift on someone else's car, it is always smart to place coasters under your cups, mugs, and glasses.
It helps keep surfaces clean and stain free, apart from making your drink appear more beautiful, especially if you have custom coasters made of marble, wood, or some other material.
What are Coasters for?
Both hot and cold drinks sweat a lot. You need coasters to ward off those unattractive rings or circles caused by your drinks (glasses and mugs) on your table, counter, and work station.
Sometimes, beverages get spilled from our glasses on the table even after careful handling.
If your table top is made from some delicate material, such as laminate, glass, mica, or white or black stone, the base of some cups and glasses can leave scratches on it, giving it a permanent blemish.
Coasters can help you avoid all these situations!
It makes perfect sense to use coasters with your drinks to protect the surfaces you use in your home or at work or while driving. Place a coaster on your table first and then put your coffee mug, tea cup, juice glass, wine glass, or beer can on it.
It will help you ensure that there are no stains, scratches, or ugly stains or signs of damage on the table, when you leave or pick your glass after finishing your drink.
But when you do not use coaster under your drink, your drink might cause various issues to the appearance and the quality of your table. These include, stains, scratches, and even discoloration. Some beverages, such as cola and soda, can pick the color of your wooden table top.
If you have granite or marble table top, then the beverage spilled on the table can seep through the pores of the stone to become an ineradicable stain. If that happens, you will need to replace the table top, which would certainly be an added cost.
These tiny coasters can help you save big by avoiding expensive repairs, remodels, and replacements. They also save you time to a greater extent.
Imagine how much time you spend on a daily basis to rub and shine up your tables and counters. Coasters capture all the stains and spills from your glasses. And they undoubtedly are easier to clean than tables tops are.
There are countless designer and branded options available when you are looking for coasters for a table in your home.
You can even buy custom coasters as per the theme of your interior design. They make a cool gift idea too. If a friend's birthday is approaching, you can get coasters customized to offer him/her as a present. Here are a few types of coasters you can select for your home –
Ceramic Coasters –
As the name might suggest, ceramic coasters are made from ceramic or clay. Their production process is quite similar to that of ceramic or porcelain tiles. However, they are lighter in weight and much smaller in size.
They are delicate and are able to capture the spills and stains from your drink to protect your expensive table top.
Wooden Coasters –
Wooden coasters have the potential to compliment the look of your table and aesthetics of the entire space. They enhance the decorative value of your furniture.
Usually handmade, wooden coasters are often made from mango wood, teak wood, oak, rosewood, and plywood. So, they have a natural woody beauty that makes an eye-catching addition to your table accessories.
For the convenience of cleaning and maintenance, these coasters have a shiny, non-absorbent, transparent finish which protects the wood from stains and damages.
Marble Coasters –
Marble is an expensive yet popular natural stone, used largely for flooring and walling in residential and commercial buildings. The stone is also used for creating kitchen and bath counters, table tops, and decorative items and accessories, including marble coasters.
The best part of marble coasters is that they can add a gorgeous elegance to any table or backdrop. So, even if you have wooden, glass, or mica table top, marble coasters will always rock.
In marble coasters, you basically get two options – white marble and black marble.
Apart from these, you can also find coasters made of glass, terracotta, concrete, vinyl, paper, and fabric.
All of these coasters can be available in round and square shapes, you can buy the right one according to your unique preferences and taste. They can also be available in triangular and hexagonal shapes.
To end with, there is another great purpose that these coasters serve. They enhance the style or look of your table. Many brands offer coasters in coaster holders, which are designed so artistically that they become an attention-grabbling feature on your table.