Brother and Sister Picture Ideas- Simple Ways to Get the Best Pic!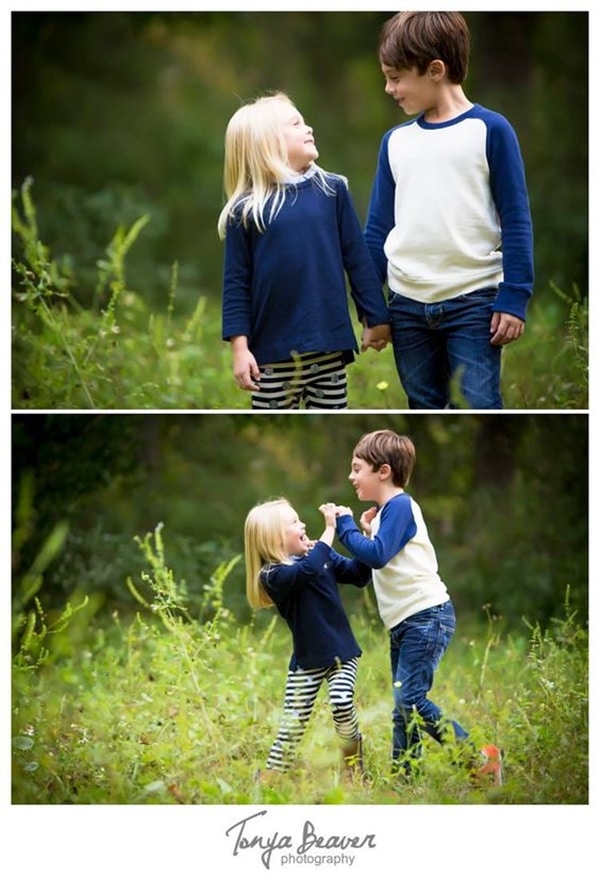 We all love our siblings and want to create more memorable moments with them. A wonderful way to create and save up a great memory with your siblings is to do crazy picture sessions. There are numerous ways to create an amazing series of photos with your brother and sister or other family members.
Here are some amazing ideas that you must try if you are planning a brother and sister photo session!
Recreate! 
One of the best brother and sister picture ideas is to pick up a random old picture of you and your sibling and recreate the exact same thing! This can be a lot of fun and also shows the amazing transformation. Here, try to recreate the photon in the same precise manner. For the best results of the picture, try to wear similar clothes and get a similar background.
With Mom! 
Bringing your mother in your picture and your sibling can take it to the next level. Here, it will be best if you try to act as toddlers in the picture. If you and your sibling both lay your head in your mother's lap, then it will give out an amazing image. You can also keep her in the middle and stand on both her side.
Keeping it Candid! 
We all know that one of the best ways to get a good and natural picture is to take it candidly. The same case applies here. It would be great/interesting if you got someone to take your photos in an even or an outing. What you both need to focus on is forgetting that there is a camera around you. Just act naturally around your sister and brother. It may not sound like fun, but the results will speak for themselves! So, if you are genuinely looking forward to making a brother and sister special photo albums, then do try this out.
Get the Props! 
Yes, you might have seen many props lying around at a birthday party or a wedding reception. Well, they do add a lot of excitement to the pictures, for sure. Go to a nearby party suppliers shop and get yourself a good set of photo props. These props will include big frame glasses, funny hats, and creative arrows and banners that both of you can hold!
Dress up! 
Another great way to bring out the best pictures is to do a small photo shoot in matching dresses! From casuals to matching colors, wear the same sort of wardrobe and take a series of photos! However, arranging all the dresses and then changing after every click can become a bit tiring and time taking as well.
Festivities!
What can get better than siblings plus the festivities! Make a tradition to take some pics of every major festival that you celebrate. Moreover, make sure to capture the traditions as well and take a pic every year to create a series of them.
Conclusion
From Candid to the props, here were the fun and simple ideas to get the best picture with your brother or sister!