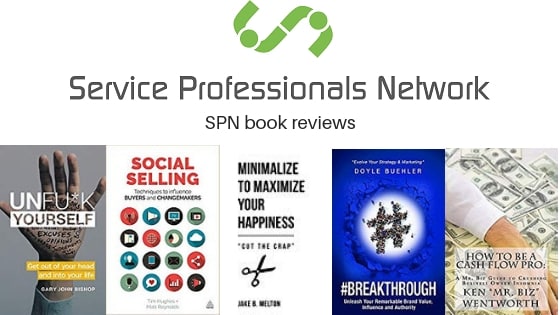 Read what Service Professionals Network members have to say about all sorts of books in these SPN book reviews. Join SPN to submit book reviews.
These SPN book reviews were done by SPN members, so feel free to join SPN and submit content. Here is a list of book reviews that we have done recently:
SPN members are welcome to submit content including book reviews. These book reviews are meant to help spread the word about quality books and the people writing them as well as the people sharing the reviews.
Letting people know you read is never a bad thing. It's also a great way to share a little bit about what makes you think or act a certain way because we all know books can have a serious impact. Share good reading suggestions with fellow SPN members and the world by submitting your book reviews in the backend or by email.
Create a FREE account to network with SPN members and share your book reviews here.
How to promote a book online
The SPN social media groups have a lot of authors and book fanatics in them, so join us for help. The SPN groups have a lot of people in them that will help you promote your book. SPN is all about Win-Win Networking & Marketing, so there are a lot of people willing to help.
We are also cool with you sharing content about your books in the SPN social media groups. Therefore, it's a good way to get your book out to millions of people in a few clicks.
It takes time and effort to write a book, so here are tips to help you promote your book:
Social Media: There is no better and more cost-effective way to promote a book than a solid social media campaign. Hence, why FREE social networking sites and groups like SPN are great. Social media networkers that practice win-win can get your book out in front of millions of people. You can share your story about writing the book every step of the way thus building interest. Help other people promote their books and they'll probably help you promote your book too.
Blog & Email: Starting a simple WordPress blog and email campaign where you provide updates can build a lot of interest. This will also be more effective with a solid social media campaign.
Use Press Releases & Free Websites: Writing a free press release and free websites to announce your book. You can also do a paid press release if it is in your budget. A paid press release is a great way to get more response while also producing backlinks to your blog or website.
Run A Contest: People love winning especially if there is a FREE prize, so run a contest with your book being the prize. Caption this photo or suggest something about the cover contests are always fun ways to promote a book.
Check out these book reviews by SPN members