Best Ways to Sell Used Baby Clothes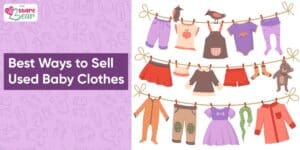 Parents always pamper their kids! Even if they don't admit it. Sometimes, they tend to go overboard buying all the latest children's toys and clothes of the season, only to have them pile-up because they don't fit anymore. Remember, young children grow extremely quickly and barely end up wearing their new clothes before they outgrow them.
In most cases, you will end up with brand new or barely-worn pieces that clutter your home. Throwing away barely used children's toys and outgrown clothes just doesn't make any sense. It is extremely wasteful and is absolutely unnecessary. So what is the most viable option? Consider a thriving marketplace where you can reduce wastage, recycle your clutter and recoup your costs from the convenience of your home!
Having an overflowing closet of used children's clothes and toys that are in great condition can help you recover some of your costs while giving other parents a wide variety of options to choose from on the used market. Selling your preloved children's clothes and toys requires a little planning, sorting and a creative eye for what would excite new parents so that your merchandise moves quickly. Here are some of our best tips on how you can effectively recycle kids' clothes and toys online.
Helpful Tips for Selling Baby Clothes
Sort Inventory: The first step for anyone who wants to sell merchandise is sorting inventory. Clear out your closet and gather all the used kids' items that you have accumulated. Remember, new parents, who are on a budget, love to buy used toys and clothes so taking the extra time to properly sort and categorize your merchandise will go a long way. Sort your inventory according to season, condition, sizes and colours.
Create Exciting Bundles: Say you bought your infant a cartoon themed jumper, or have an entire Christmas themed outfit complete with stuffed toys and accessories. You can sell them as a themed bundle that can get shoppers interested in your listing. Additionally, you can sort bundles by clothing material, style and season.
Rate the Condition and Set a Price: Not all of your used toys or recyclable kids clothes are going to be in pristine condition. Lightly worn or drastically faded items will command a separate price on the online marketplace. Sorting out your merchandise according to the condition they are in is also a great way to keep certain items for donation. Once you have a decent amount of perfect, good and fair condition items, you can start pricing them. Refer to the price of similar items online to have an idea of how to price your own pieces.
Make Items Clean and Presentable: After you're done sorting out and categorizing your used children's clothes and toys, you need to get them ironed, cleaned and looking their absolute best. Take clear and eye-catching photographs. A good picture can do wonders for the sale of your inventory.
Add a Clear and Thorough Description: It helps to make your listing as detailed as possible. Add lots of pictures and be thorough with the description of any wear and tear if at all. Most online shoppers are used to buying items that look great on the listing but do not match expectations when they are finally delivered. Having clear descriptions and good photographs can help reduce scepticism.
The next step is to look for the best place to sell children's toys. Physical thrift stores, flea markets and the used section of a retail store can be good options. However, most parents who look to buy recycled children's clothes and toys go online to find unique options rather than leave the house or office to go hunting at the stores.
If you're in need of a reliable kids clothing and toy resale store to sell kids clothes then look to Share Bear. We are the best place to sell children's toys, clothing and accessories and can help reduce your clutter while recovering your costs. You can also donate kids clothes online at our store and help someone in need! Decrease clutter while reducing wastage through recycling. At Share Bear you can find a community of parents that care about the environment and love shopping for their kids!