Benefits of Choosing a Feature-rich Android Application
With the growing use of mobile phones, mobile apps have become an important part of any business's success as they help them to drive more users through mobile. When it comes to developing a mobile solution for a business or enterprise, The choice usually lies between an Android and iOS mobile application. The decision depends on your business needs and available resources.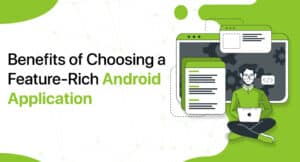 With billions of active users on the Android platform, businesses are keen on releasing apps that are compatible with this platform. If you're developing apps for a broad global user group or emerging markets, Android is most likely the right choice. Android is the dominant operating system globally.
Choosing Android App Development can help your business get a competitive advantage to excel in the digital world. In this article, you will learn the top benefits of Android applications.
Open Source Platform
One of the main reasons for which you should consider Android as your app development platform is that it is open-source which means that building apps for Android are very cost-effective. An Android application developer will have direct access to everything the expansive Android community has to offer. Business entrepreneurs can easily access the Android platform.
Enhance Business Revenue
Android, currently the most popular and open-source operating system for mobile devices, is used globally. As it is open source and is available for free and the feature-rich SDK can be used flexibly, it is very beneficial for businesses. Many small businesses are earning a lot of money just with a single android application.
Easy Customization
Android is a flexible system that allows for a great deal of adaptability. All you get is a unique and intriguing business application with a variety of features. This platform will easily solve all your business requirements. Android offers a broad array of easily customizable options. The developers get easy access to all the features offered by Android platforms. That is why android applications are a popular choice.
Target Multiple Platforms
Businesses can target multiple platforms with Android app development and It is one of the many reasons why organizations choose Android development. The use of a Java programming language makes it simple to target various platforms like Symbian and Ubuntu. It helps to take advantage of the resources and time based on different targeted groups.
Great Security
It is very important that your mobile application is well-secured. Android plays a significant role in providing a secured platform that is Linux-based. Safety and reliability are remarkable benefits of android application development. Android offers a stable forum and It added new built-in functionality to protect against viruses and malware. Android plays a significant role in providing a protected platform. With the help of Android app development, you can protect your app from getting crashed.
Scope for Innovation
The innovation in the android application remains at its peak and will continue in the future as well due to its popularity. You can get high-end app solutions that integrate new technologies.  In many ways, the Android platform has a wide range of possibilities for creativity and opens the door to new market prospects. We have to accept that Android application development is a lucrative opportunity for today's businesses.
A well-designed application is the most important tool that a person uses to access information. Android is the most popular and widely used OS, there is a strong demand for capable Android applications. If you want to give a boost to your business, going for android app development is an excellent idea. You can enjoy the multiple benefits without any heavy investments. You can contact Swayam Infotech for your android app development and schedule a meeting for a detailed discussion. Our android developers work closely to make sure that the app is developed as per the requirements of the customers.