Benefits of Buying/Investing a new launch project in Gurgaon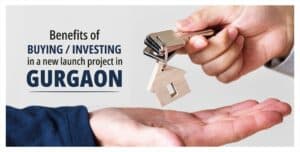 The pre-launch stage of a residential project is when the top rated builders in Gurgaon announces the project proposals and begins selling them. The ideal time to buy a home and is greatly beneficial for home buyers because it offers a good repayment on the overall costs. The primary advantage of choosing a newly launched project is its low cost, as many investors are interested in purchasing new properties. Pre-launch real estate prices for any new property are usually the lowest in order to attract buyers.
Why do developers pre-launch their projects?
To raise capital, the developers pre-launch their projects at an early stage. This capital is then reinvested to develop the project, such as infrastructure and amenities.
With a growing number of real estate developers in Gurgaon and increasing competition, having a pre-launch gives the developers an insight into the market.
Buyers who show interest in pre-launch projects are typically opportunistic investors and end-users who want to take advantage of the price advantage and are willing to wait a few years before taking possession of their apartments.
Here are some benefits of buying new launch project in Gurgaon
1. You always paying less than the actual market price.
Buying a brand new home has the benefits of allowing you to lock in a low price before interest rate increase. Price hikes for homes beyond the new – launch period are very common in the real estate market. As a result, investors choose investing in real estate while it is still in the re-launch stage. Price increases can occur for a number of reasons, such as increase demand for real estate, new infrastructure construction in the area, rising labor and raw material prices, changed policies, and more.
Choosing a newly launched project will enable you to save a large amount of money for further requirements in the future. If you want to make a significant profit, you can even consider selling the house at a higher price once it is ready for use.
2. Cost-effective, with Future Growth
Most builders would make appealing pricing offers during the initial launch period. Because real estate is such a competitive market, players will go to great lengths to entice buyers by offering early bird discounts. Up and coming homebuyers should take advantage of this opportunity to get the best deal on a new home. Freshly launched projects are a great option on any given day, whether you're looking to invest in real estate or simply need a new place to live. Market research may disclose that ready-to-occupy homes and semi-completed projects are more expensive than newly launched ones. If you want a low-cost home, a new-launch project is the way to go.
3. Customization Flexibility
If you choose a fully completed property, your chances of getting an apartment with the best view or layout are slim to none. However, if you buy a home in a newly launched project, you will be able to choose from a large number of units and determine which unit best suits your requirements. When it comes to a new-launch project, you may want to acquire a personalized interior layout or make minor design changes; all of this is possible.
4. Safe and Valuable
A newly launched apartment or villa property is the best option for diversifying your investment portfolio. Whether you are an experienced investor or a first-time buyer, purchasing a property during the new-launch period will help you save a lot of money and make a worthwhile investment. You should always hire a dependable and experienced builder with proven expertise in the real estate sector to avoid unanticipated financial and legal difficulties. Look for the RERA registration number and other legal paperwork required by the government before purchasing a property in India.