Bahria Town or DHA Karachi, which one is a better option?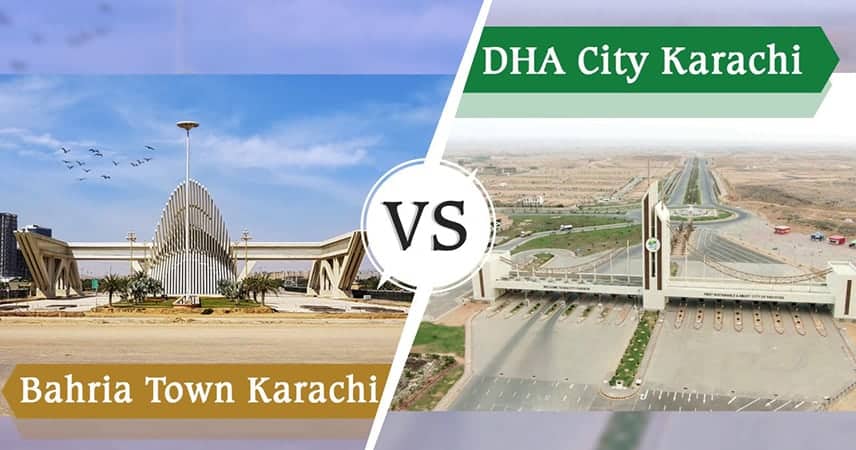 When you talk about the luxury locations with your residential projects, then two significant names come to your mind. One is the Bahria town, and the other one is DHA Karachi. DHA is present in the outskirts of Karachi, and it is known to be the posh location of Karachi. However, Bahria Town is the project by the Bahria group.
Both of these fascinating locations have their pros and cons. You cannot deny that there will be up and downsides, but you cannot forego that both of these locations are the most luxurious and fascinating locations of Karachi. People invest in These areas to have a long term better lifestyle. But when comparing both of these areas, you must understand which of these is the best option. Let's talk about the sizes and the location.
Sizes & location
Karachi is a big city and offers a lot of Perks and Joy of living in this city. However, every place has diversity, and you will have to understand and scrutinize the process of buying the residential area in Karachi. When you plan to get your house in Bahria Town, you must know that it has a total area of 44000 acres, and it offers up to 58 blocks, which is massive. With that, you will understand that Baria town had an enormous space for living, and you will not feel crowded when you are in the space.
Compared to that, DHA Karachi has a total area of 20000 acres and only has 16 sectors. Even though the defence housing authority Karachi is the area that is considered to be more luxurious as compared to Bahria Town. But with time it has been crowded are most people have started living in this area. It is still a top-notch area of Karachi with its poets and significant advantages in terms of luxury. It is a fascinating area of Karachi that offers living space for higher and elite classes.
However, when finding out the best residential space to build your house requires a little more effort. You might have to do a little bit more research, and you will have to visit physically as well to both of the places and see which spot is the best one for you. Most people are afraid to live in defence because Defence is far away from the central city area. However, it is still peaceful and safe to stay.
Price variation
The price of both Bahria Town and Defence housing authority varies. However, keeping in mind that the property prices are still rising every day and for the posh areas has been increasing every second. Bahria Town and Defence housing authority both have a significant construction unit, and they are also known because of their great potential for more construction. However, we can say that Bahria town is comparatively more expensive these days because it is a new project and people are more interested in getting their houses in Bahria Town.
In comparison to the Defence housing authority is an ancient project and has been expanding over time. Still, you need to keep in mind that the construction is comparatively slow in the Defence area, and the prices are relatively lesser. But Bahria Town Karachi has more Rapid construction potential and a more excellent price range as well.
Bahria Town might be facing a few image issues when it comes to the current situation. People have been taking a back step when it comes to getting a residential property in Bahria Town. And the reason behind that is the court cases and other issues. Rumour has it that Bahria Town might end up closing the project, and that is making most of the people very anxious. People have their life savings invested in these properties, and the new potential customers do not want to get involved in a project that has so many e issues. Therefore, in recent times, there is a decline in property sales in Bahria Town because of the fear of losing money. People are very Peculiar when it comes to residential areas. They do not want to waste the money that they have earned very hard over these lousy projects. No doubt the Bahria town is a posh location and a perfect project to live in, but it is still risky.
The Defence housing authority, on the contrary, is in business for a very long time. There are houses constructed for over decades, and people are living there. There is a concept that the Defence housing authority is a lot better project in terms of investment. One does not have to worry about their investments when getting a plot or a property in Defence housing authority. It is a trustworthy source for which people find it more credible to invest their life long investments. This is why people are more inclined towards the Defence housing authority to get their plots and start living in this posh lifestyle.
Issues
When we talk about the issue, the first and very important issue is that different authorities do not have the water supply. The people there are all alone, left at the mercy of the tanker Mafia. This is the reason why people do not want to get their property in Defence housing authority. The tanker Mafia can leave you without water for many days, and infrastructure is not good as well. There are a few minor issues that you will face when you are living in the Defence housing authority, except for the more significant problem of water supply. Moreover, there is another issue of this commercial area that it is very close to the sea, which is the reason that most houses were flooded during the recent rain and monsoon season.
However, when we talk about Bahria Town, we can say that it has a better infrastructure, but people have to pay a lot of money to get and be a part of Bahria Town. Moreover, the setback is the court cases that live people with a lot of thoughts and anxious feelings.
All in all, the construction and infrastructure are perfect when we talk about the village and the Bungalows in Bahria town. Moreover, there is one other issue: the massive amount of instalment fees and the taxes and other charges when you purchase the property in Bahria Town.
Conclusion
In the end, it is your choice where do you want to live. However, when you are planning to purchase a residential property in Karachi, you must visit both of these places physically to ensure which place is better and which is the best option. You must find a place with all the amenities of life, and you do not have to go a long way to get the necessary amenities and groceries. Also, make sure that you have set your budget before you finally purchase a residential area. Without the budget, you might not be able to figure out which option is the best. When you have a particular budget, it becomes a lot easier for you to determine the best option.
Moreover, if you are not planning to invest a massive amount of money, then the Defence housing authority is still a better option. However, you will always have to face the issues of water supply. But in my opinion, the Defence housing authority is still a credible source where you do not have to worry about the project shutting down.