Backlinks: What Are They & Why Do You Need Them?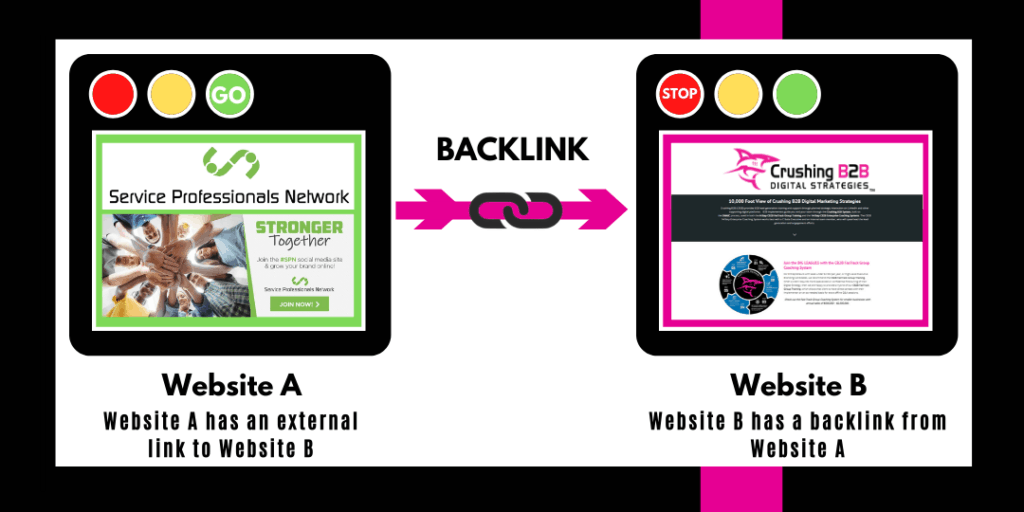 A backlink is a link from one site to another. People also use terms like "inbound links" or "incoming links" to describe backlinks. Any website that has your link on it is giving you a backlink. There are also different types of backlinks. You can have "do follow" and "no follow" backlinks. Images or text that link back to your site is giving you backlinks.
Why are backlinks important?
Backlinks are important to SEO because Google and other major search engines consider them to be major indicators of credibility or "votes of confidence'. There more quality backlinks your pages have the more credible they look to the search engines.
Search engines have a lot of options when it comes to any inquiry that we make. The more people support your content on a specific subject by linking to it the better it will do in the Search Engine Results Pages (SERP). Backlinks can help your pages pop up higher in search results and they can also produce direct traffic too.
Building backlinks build the web around your website so it is important to get links for many reasons.
External links and off-page SEO
External links are links that point from one domain to another. If another site links to your site then it is an external backlink that is helping your off-page SEO. The text that hyperlinks to your website is called "anchor text." The better the anchor text describes the content of the webpage that it is linking to the better the SERP boost it provides. Data shows that getting backlinks is the single most important SERP ranking factor. The thinking behind this is due to the difficulty in manipulating your external links. 
The more backlinks you have the more popular your content is. Therefore, it makes a lot of sense that external backlinks are so important.
There are many metrics that factor into the value your external links provide. Search engines consider the trustworthiness of the site that is linking back to your site. The more popular the page linking back to you the better. Search engines also consider the relevancy between the topics of the two different pages. A link from a website about cool stuff you may want to buy to a site about social media activity won't be too helpful.
Search engines will also consider the anchor text and number of links from one domain to the next. A million links from one million websites are better than a million links from one website. The number of variations of anchor text and link type (text or image) also factor into off-page SEO results.
You also don't want to own all the sites linking back to your site. 
Internal links and on-page SEO
What is an internal link?
Internal links are links that point to different pages or content within the same domain. These internal links are used in the navigation menus, images, and text to help users navigate a website, establish a hierarchy of information, share more information, and spread authority (ranking power) around the website.
Internal linking is very important because you want traffic on every page you create. You also want the search engines to be able to easily see the structure of your website. Many sites that are not ranking like they should have poor internal linking. You should have at least a few internal links on every page of your website. Sites that have a few internal links and at least one external link on every page tend to do better in SERP. 
Link building is crucial to off-page and on-page SEO. The process for external link building is a lot harder for a few reasons. However, there are also a lot of ways to easily build external links that add value to your rankings. For example, directory and social media sites like SPN can make it pretty easy to get some quality backlinks. You can register a social media account to share your links in your profile and you can also list your business in the directory too. There are many thousands of blog networking sites like this. Facebook and LinkedIn are two of the most popular platforms, but there are literally thousands of sites that allow you to register an account. 
The value that backlinks give you has a lot to do with the domain authority of the site give you the link. Do-follow backlinks from trustworthy sites with a high domain authority are the best.
What is a do-follow link?
A do-follow link is a link that instructs search engines to pass link equity to a particular site. Do-follow links from a high-ranking website really will help with your site's credibility. There are also no-follow links that don't tell the search engines to give you extra love. These links can still provide a lot of value for a few reasons. A no-follow link from a site with a high-quality website can still give your brand a big boost!
The better the site giving you the link the better the link will be. Now, you should also avoid having low-authority or spammy sites linking back to you. The anchor text that you use and the quality of your backlinks will have a big impact on your rankings.
Getting the right backlinks can take a lot of effort. It can also be costly and very time-consuming, but it is important to get backlinks if you want traffic to your website. We use Fiverr sellers from this group to build links for our websites. SPN and Crushing B2B also help people with backlink research. The best way to do backlink research is to take a look at the backlink profiles of your competition. You can make a lot of money online if you know how to build the right links for the right sites. 
Please feel free to let me hear your questions and thoughts in the comments below.