Autistic People Shouldn't Have To Ask, "Please Be Patient, I Have Autism."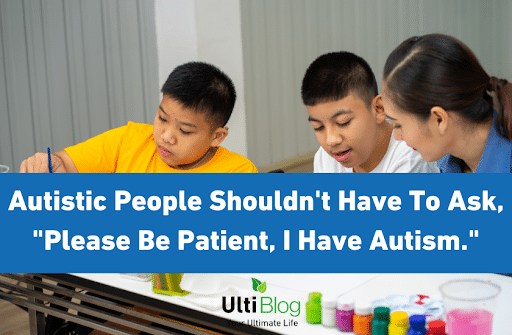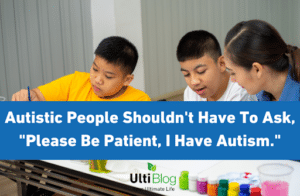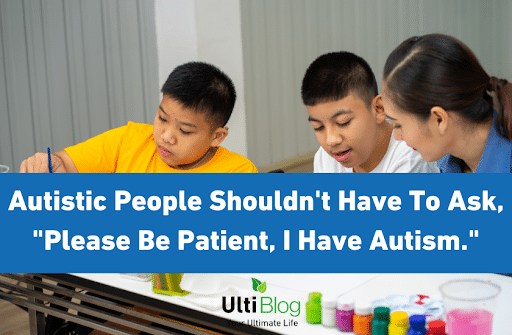 I recently spoke to a friend of mine with autism, and they told me how people often expect them to behave in social situations. They said that people are often impatient with them and don't understand that they have autism which can sometimes make communication difficult.
This got me thinking about how we as a society should do better when it comes to autistic people. We should be more patient and understanding because they can't help having autism after all.
We should also try to learn more about autism and what we can do to help autistic people thrive. You can start by reading Maybe It's Time You Understand And Embrace Autism.
How Autism Affects Someone's Daily Life
Autism spectrum disorder (ASD) is a condition that affects how a person interacts with the world around them. People with ASD often have difficulty communicating and may find it hard to understand social cues.
As a result, they may seem insensitive or uninterested in others. They may also have difficulty sustaining eye contact and prefer to be alone. In addition, people with ASD often have repetitive behaviors or interests. This can include repetitive speech, body movements, or fixations on particular objects.
While these behaviors may seem peculiar to outsiders, they can help people with ASD to feel more comfortable in their environment.
How To Be Patient With Someone Who Has Autism
It can be challenging to understand and communicate with someone who has autism. However, it is essential to remember that they are people, too, with their own thoughts, feelings, and perspectives. Here are some tips for how to be patient with someone who has autism:
Educate Yourself
Educate yourself about the disorder. The more you know about autism, the better equipped you will be to understand and communicate with someone who has it.
You can start by reading these recommended books;
 Highest Rated Books On Developmental Assessment
Make An Effort
Make an effort to connect. Take the time to listen to what the person is saying and try to see things from their perspective.
You can also keep objects around your house for when they visit, to them soothe themselves. Like these;
Be Patient
Be patient. It may take longer for someone with autism to process information or respond to communication. Allow extra time, and don't get frustrated if they don't respond immediately.
Respect Their Personal Space
Some people with autism may not like being touched or may have sensitivities to specific sounds or smells. Respect their boundaries and don't take it personally if they don't want to engage in physical contact.
The Importance Of Understanding And Accepting People With Autism
While each individual on the autism spectrum is unique, there are some common symptoms and challenges that many people face.
Despite the challenges faced by people with ASD, it is essential to remember that they are just like everyone else. They have their own unique talents, abilities, and perspectives. Like neurotypical individuals, people with ASD can lead happy, fulfilling lives.
By understanding and accepting people with ASD, we can help create a more inclusive world for everyone.
Conclusion
Autism is a spectrum disorder that affects people in different ways. For many, it can be isolating and scary not knowing how to interact with someone with autism.
However, by learning more about the condition and being patient, we can make life easier for those affected. To learn more about autism and how you can help support those living with it, read our latest blog post, Maybe It's Time You Understand And Embrace Autism.
And more informative articles like this, check out Ultiblog.com.
Follow Us On Social Media 
Facebook – Ultiblog : https://www.facebook.com/groups/ultiblog
Instagram – @Ultiblog : https://www.instagram.com/ultiblog/
Pinterest –  Ulti Blog : https://pin.it/4DAxQeY
YouTube – https://www.youtube.com/channel/UCMUfJjseuKLt_1vh-2xTCbQ