Andy Vargo: SPN Member Of The Week. 12-31-18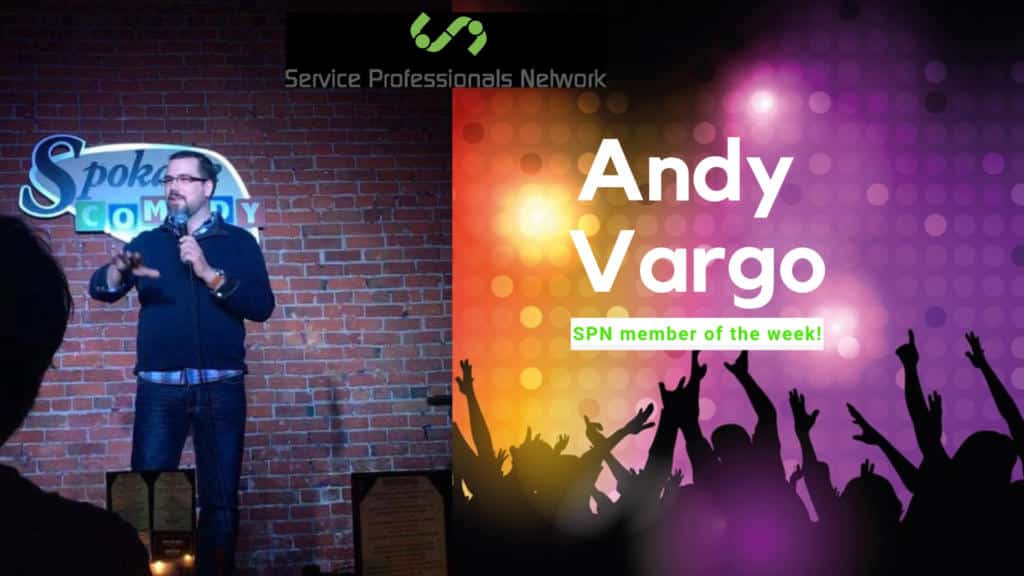 Andy Vargo
is the last
SPN member of the week
interview for 2018. We chose Andy due to his challenge to
own your awkward
. Andy wants to see people succeed, so he helps by challenging people to accept who they really are. People tend to spend a lot of time holding themselves back due to fear. Most people will begin a conversation with pretty common questions. Andy dives right into conversations with questions like: "what is the most awkward thing about yourself?" It's a powerful question that Andy has been asking people for a long time. Andy believes that we are all self-conscious when we walk into a room full of people for one reason or another. Our fear can often have a powerful adverse effect on our lives. Confronting the uncomfortable things about ourselves can lead us to accept who we are. Accepting who you really are and embracing that is one of the keys to getting the most out of life. Andy is also a very funny guy that loves to share his story. He doesn't hold back and often shares his own awkward moments. Laughter and empathy are his tools, so it's both fun and honor to highlight Andy this week.
Meet Andy Vargo
Craig Wasilchak:
 what is your true mission here on social media?
Andy Vargo
: Social media is a way to spread my message and help so many more people than I would ever be able to reach. Were it not for social media I would not have met so many of the great people who inspire me, help me grow and challenge me to be better every day.  I want to be that for others as well, and social media puts my message and stories in front of people from every walk of life, all over the world. Social media is the backbone of my outreach and the centerpiece of my opportunity for business growth.
Craig Wasilchak:
  In addition to the serious side of your life, Do you have a fun or unique unknown Gift or Talent that you can share with everyone?
Andy Vargo
: A couple of years ago I started doing stand-up comedy.  A good friend had pushed me to try it out and once I did, I was hooked.  Comedy has become therapy for me in a way that I never expected.  I can get on stage and make fun of the most ridiculous parts of my life. I need to load some updated videos but you can
see some older jokes online
.
Andy Vargo – the personal side
Andy Vargo
: I never knew exactly what I wanted to be when I grew up.  In fact, for years I would tell my kids that they did not have to figure that out until after I finally did. I knew in my heart that I had a calling but it was not until I accepted my own awkwardness that I could understand what that was. I spent every day of my life trying to make sure I would blend into the crowd, afraid to stand out for who I was inside. At the age of forty, seemingly successful to all outward appearances, there came a point where I had to make a change. I was unhappy in my marriage and career. Life was not fun, so I had to confront my fear. Coming out as gay was the hardest thing I have ever done. I was able to face my biggest fear in life. I also lost my job, home, and no longer was able to live with my family. It was a rough year, to say the least, but it also did help me hear my calling. Being gay does not define me as a whole, but my journey is also not uncommon. Many gay men come out later in life due to the fear they have about acceptance. This journey while not always pleasant, but it made me who I am while giving me the tools to help others.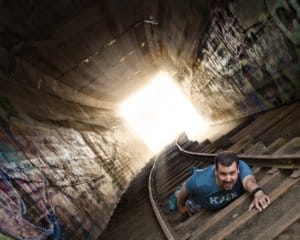 Andy Vargo – An entrepreneur at heart
Andy Vargo
: My life is now my business.  This includes motivational speaking, life coaching, a podcast, and writing. My main focus is on speaking and coaching. As a motivational speaker, I share my story and challenge others to be okay with exactly who they are and where they are in life. I love the opportunity to entertain and inspire groups of people who can benefit from the idea that their biggest successes will come not from changing themselves, but from changing the way they view themselves. My message to 'Own Your Awkward' resonates with groups from every background as I tie it in with authentic leadership, genuine connections in sales, and even resolving inter-department conflicts among other themes. Coaching is a natural fit with my mission as I have always been the problem solver. Coaching allows me the chance to help you one on one at a deeper level that is unique to your current situation. If you have a chance you have wanted to make that has been teasing you for months or even years, even if you know you want to make a change, but do not know where to start, then I can help you.  I have a six-step system that walks you through defining and implementing the changes you want to make in your life. The
Own Your Awkward podcast
is something I love hosting as it challenges everyone to share a vulnerability they have had to come to terms with. This shows the world that we all have things to work through and gives you hope, that you can accomplish your goals, even if you have a little awkward in your life. While I am constantly writing, currently I have published the
Awkward Journal
series.  These follow the principle that all you need to do to improve your life is to pick three things you will do today in order to make tomorrow better. Each journal has a different focus, getting past feeling stuck, taking charge of your career, or putting more fun in your life, for example. My dad once mentioned he did not know how to explain to people what his son is doing now, I told him, I help people accept themselves and live their best life. It really is that simple.
Craig Wasilchak:
What are three things you did on social media in the last 60 days that made you feel good about yourself?
Andy Vargo
:  First, I have started using the live video option.  This brings a more authentic me to the world and I find that people connect and react more to this type of interaction than a video that is produced and edited for release, a good example of this were the #shareyourugly videos you can find on LinkedIn and
the six steps overview
that you can see on YouTube and Facebook at Andy Vargo: Awkward Career. Second, I would say that my #100HUGS were so much fun to do.  I am still wrapping up the overview so that I can share it with even more platforms, but that was a heartwarming exercise, literally. Watch for more on this to come out soon. Third, I would have to say starting my Awkward Sunday Chats live feed on Facebook has been a fun and inspiring way for me to bring my audience together for a weekly chat every Sunday night at 7 pm to prepare our mindset for the week ahead. Be sure to check out this next week's live video at 7 pm on Facebook at
Andy Vargo: Awkward Career
.
Top Social Media Friends
Mike O'Connor
has helped me expand and grow my network by giving me new ways to look at networking. Zach Messler has shown me the importance of clear and compelling communication in my profile and posts. Curt Mercadante keeps me focused on the business of social media and the purpose of my activities. Sarah Elkins engages me to tell my story in a way that matters as to how I want to position myself in the world. Jim Kellner inspires me to stay at it and hit the social media hard every day even if it's just posting a quirky pic. Heather Younger reminds me to keep the human touch in place with her message of leadership with a heart.
Craig Wasilchak:
What favorite organization or group do you belong to and why is it your favorite?
Andy Vargo
:
SPN
, of course, is at the top of the list because I have made so many great connections in this group who I have learned so much from. My other favorite group is the tribe of people that will be making it to the No Longer Virtual conference in Atlanta this year lead by Sarah Elkins and her LinkedInFam. Also,
Curt Mercadante's Freedom Club group on Facebook
is very engaging and keeps you challenged as an entrepreneur.
Craig Wasilchak:
What is one piece of wisdom that you received, that changed your life forever?
Andy Vargo
: When I first started posting videos to YouTube and Facebook, a friend called me up and asked what I was trying to do.  He said, "I cannot tell if you want to be serious or funny and it seems you need to go one way or the other. If you are going to do it, it just seems like you need to step into the awkwardness" and from there I committed to owning the awkward at a level I had not before, nor have I looked back since. Whatever you are trying to do, you need to commit fully or you will not be successful.
 Craig Wasilchak:
How do you find inspiration?
Andy Vargo
: One of my best friends and basically my work-wife used to say to me, "You should be motivating people on stage, you are a leader and you can do great things, I believe you were meant for so much better than working here." Everything I am doing in my life now comes back to her pushing me to be better. She was taken from us last year after a battle with cancer, but before she was gone, she saw I was on my way. Whenever I feel that I should give up, or cannot get over the next hurdle, I think of her and her faith in me. When someone we love believes in us, it is not something to take lightly.
 Craig Wasilchak:
What would you say to the 12-year-old version of yourself knowing what you now know?
Andy Vargo
: I would say that you need to follow your gut instincts.  Every project, every instinct, every idea that you think is a winner, try them all out. Follow them up and take them as far as they will go. The only regrets you will have are the roads you did not explore.
 Craig Wasilchak:
Quotes make us stop and think.  What is your favorite quote?
Andy Vargo
:
Two roads diverged in a wood, and I– I took the one less traveled by, and that has made all the difference.   –Robert Frost
This quote has always resonated with me. It's the idea that my journey has always been different, awkward, out of the norm. But I would not want it any other way.
Craig Wasilchak's caffeinated questions with Andy:
What book or podcast have you read/listened to in the last 90 days and what was your biggest takeaway from it?
My favorite recent read was a book called
Yes!: 50 Scientifically Proven Ways to Be Persuasive
by Noah J. Goldstein and Steve J. Martin. This book opens up your eyes to the methods behind marketing your products or even your brand by playing on the reasoning behind buyers' decisions. It has made me very aware of the thought process that needs to go into the timing and presentation of every campaign I put together.
Craig:
If you could drink coffee with anyone that has ever lived but is no longer living…
Craig: 
Who would it be?
Andy:
Nelson Mandella
Craig: 
What would you talk about?
Andy: 
I would ask him when were the darkest and lightest times in his life and who did he look up to when the light was hardest to see.
Craig: 
Why?
Andy: 
He never gave up even through years of darkness. A man that can stay positive through that is worth learning from.
Craig: 
If you could drink coffee with anyone that is alive today… (I will Tag them in this post)
Craig: 
Who would that be?
Andy: 
Tim Ferris
Craig: 
What would you talk about over coffee?
Andy: 
We would talk about whatever the latest experiment he is doing with his life and I would ask what perspective he might have on my latest endeavors.
Craig: 
Why?
Andy: 
Tim is the kind of person that is never afraid to try anything to get to the bottom of what the best method is for every part of life. I respect that and could learn a lot from someone with his perspective.
Craig: 
Who is your typical client?
Andy: 
For speaking, my typical clients are businesses/event planners looking to inspire and motivate their team through a focus on authenticity and coping with change. Owning your awkward is about allowing each member of your team to shine, as they are, in order to create a team that is diverse, powerful and confident in what they bring to the table as individuals and as a combined power. My coaching clients are people working through life or career changes. Whether that was a life change that was out of your control and you are coping with bouncing back, or it is a change you have decided to make in your life. Either way, I have been through both and know where you are coming from and just how good it feels to get where you want to go. If you want to make a change in your life or change just happened to you, and you do not know what the next step is, or you just feel overwhelmed with the process, then I am the guy to help you work through it. My
six-step system
walks you through each step of the process and more importantly it arms you with the skills to deal with future changes.
Andy Vargo
is a motivational speaker, life coach, comedian, and author, who challenges you to "Own Your Awkward!" He is the author of the
Awkward Journal
series, hosts the podcast,
Own Your Awkward
, and shares thoughts and ideas in his blog and video series available at awkwardcareer.com.  Contact him for speaking and coaching engagements at
[email protected]
.  Watch his fun intro video by
clicking here
.