Accelerate Your Business Growth In 2022 With Salesforce Mobile Application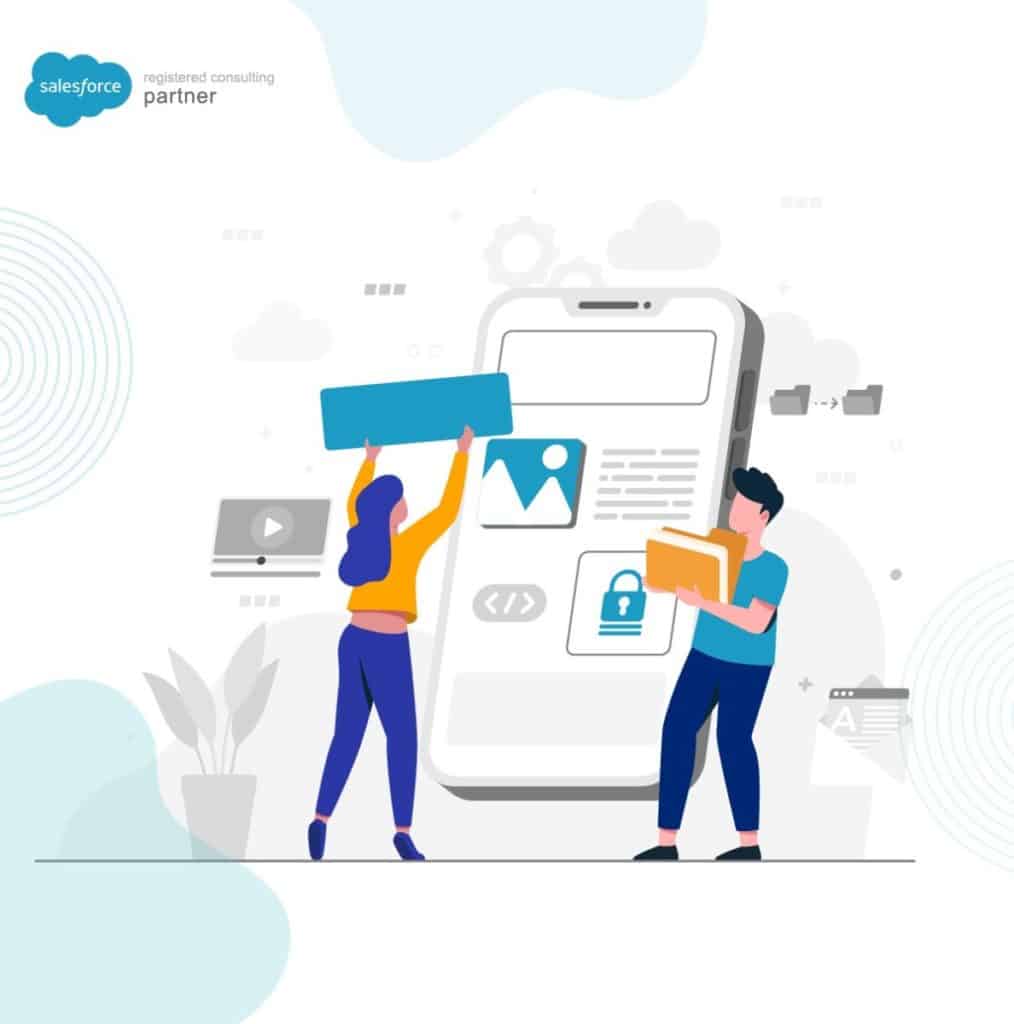 Salesforce implementation for any business has been incredible. With all the automated processes and business flows, Salesforce has been a great factor in the elevation of digitally-enabled businesses today.
However, the applications of Salesforce are not confined to the desktop version. The boundaries go above and beyond to mobile app extensions to ensure on-the-go advantage to businesses for accelerating their growth. It does wonders for the users as the accessibility, scalability, and techniques involved offer them incredible advantages.
It offers incredible and unfancied benefits to the users so that they can use the Customer Relationship Management software, i.e., Salesforce, to give them elevating solutions without any hassle. Moreover, for the businesses following sales models, the Salesforce application gives them the incredible edge to take the fullest of advantages with a great cost-effective method to get the most out of your CRM implementation.
Perks Of Integrating Salesforce Mobile App For Your Business in 2022
Salesforce mobile app offers incredible benefits to the business in accelerating their growth and elevating them to implement a method that elevates them in the modern tech-driven world. If you haven't implemented Salesforce mobile app for your enterprise, now is the time to do so by partnering with the certified Salesforce consulting partner.
Scalable Access To Information
Salesforce is a software that is completely cloud-based stored, and with this, it becomes accessible for the users to have easy access to all the data and information at their fingertips. This becomes possible with the advent of Salesforce mobile application that let business use the prowess of consumer data at their fingertips.
In the current times of uncertainties where partial or complete closures and lockdowns are happening, with Salesforce mobile app, you have the liberty to operate your business and go about the functionalities in a hassle-free way. Moreover, it also gives you the enablement of quality access to data that can be used to generate better sales and have rock-solid indemnity of your harnessed ROI.
360-Degree Of Your Customers
The implementation of the Salesforce mobile app gives an incredible edge to businesses to view their customers from a 360-degree. It wouldn't be wrong to name Salesforce mobile app as a tool for customer data management. This tool comes with a custom personalized way that gives a business high-class accessibility to deal scale with their sales, marketing, and customer services.
Moreover, the 360-degree view of your products and services will also give you the idea of how better it would get for you after integrating your complete business with the marketing cloud, commerce cloud, and customer service cloud. So, with this, you can drive more customer engagement and get personalized experiences.
Lead Generation Reaches To Exponential Heights  
Salesforce is an all-inclusive software that gives several products and tools to help you grow your business. For instance, the implementation of the Salesforce Lightning platform from an expert Salesforce consultant will help you develop a lead in a hassle-free manner while managing your sales funnel through a competitive management system.
This is where you, as a business owner, can see the entire process of what happens with your lead through lightning mode activity. Moreover, another component, too called 'Path,' helps monitor different stages involved in your business process. Thus, it becomes easy for anyone to process the lead generation and eventually take it to closure with the well-gathered information.
Personalized Data Scientist Is A Blessing
Salesforce mobile application is an entire cloud-based software that has the ability to generate 50,000 GB of data every single second. Around more than 70% of the accumulated data is a collection of customer data and all the related information.
So, this is where Salesforce becomes your personal data scientist that helps you get the relevant insights with all the recommendations to better your customer engagement process. This is called Einstein analytics that covers the holistic aspect of the Salesforce mobile app. Moreover, it will also give a complete glimpse of your Sales business along with a proper resource management aspect.
Get A Customized Sales Pitch 
Another great benefit that your business will be gaining from a Salesforce mobile app is the whole lot of different techniques that you can integrate and elevate your database accessibility.
Furthermore, this mobile app powered by Salesforce also enables you to handle your customers in a better way without having any restrictions to location or the requirements of system barrier. Thus, the adoption of to Salesforce smartphone app will open gateways to incredible customization and personalization in your sales pitches to ensure that potential customers are converted for sure.
Offline Accessibility Is A Plus
Now, the use and accessibility of the Salesforce mobile app performs impressively amazing with an internet connection, be it from a cellular connection or from Wi-Fi connectivity. However, you might be wondering if the connection works the same way when you don't have an internet connection?
Yes, it does. Salesforce offers functionality and accessibility to users not connected to the internet. At this point in time, all the data will be stored in your Salesforce mobile app and will be presented to you on a smartphone. And when you establish an internet connection, all the data will be transferred and uploaded to your cloud-based server. All the information stored earlier and uploaded later will be free from any glitches so that your company can have the most from Salesforce integration.
The Final Takeaway!
Undoubtedly, Salesforce has helped hundreds of thousands of organizations worldwide in gaining world-class business workflows. This enablement from Salesforce allows you an uplifted edge to increase efficiency to a whole new level and increase customer satisfaction to the most.
Furthermore, the benefits mentioned above of the Salesforce mobile app allow any business to go about their functions on the go. It does cater to more than just CRM needs and reaches you to a new level of personalization.