Abeer Qumsieh Shares Secrets of Better Business Proven Entrepreneur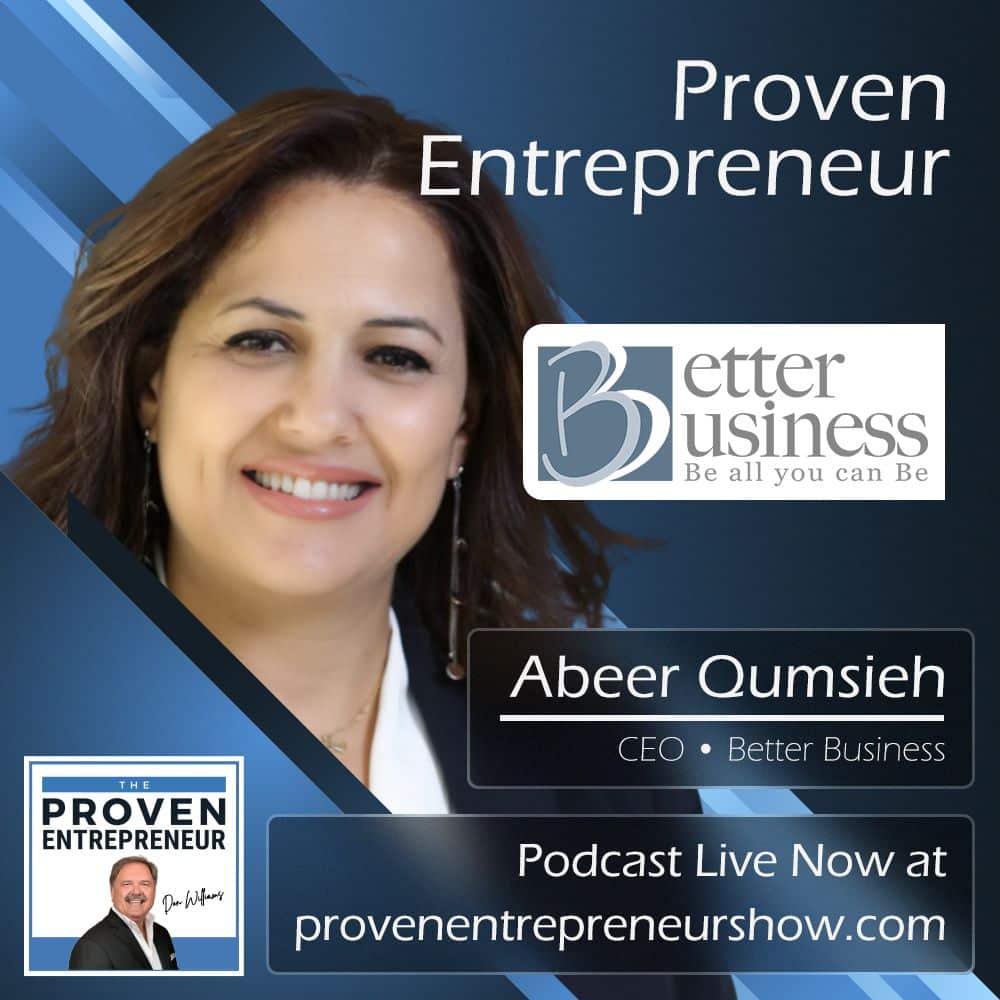 Jordanian Proven Entrepreneur Abeer stand amongst the ranks of great entrepreneurs. She is a woman, a mom, and an entrepreneur, but that didn't stop her from building a multi-million-dollar business.
Small child, big dreams
Abeer grew up in Jordan, a country whose claim to fame is being the lowest point on Earth. As a child, she watched her father work in one business after another. Her father worked in everything from oil to insurance. Unsurprisingly, Abeer got her work ethic from her father. While everyone else was playing house, she played company with her siblings, where they pretended to run a business from their backyard.
Abeer turned her dreams into actual businesses as soon as she could. During college she sold t-shirts and earrings from her dorm. And she also launched a meal delivery program that was 20 years ahead of Uber Eats.
While Abeer's early business attempts didn't stand the test of time, they taught her how to run a company. These lessons would help her build one of the most successful women-run businesses in this decade.
A natural entrepreneur
Upon graduation, Abeer set her sights on growing as a businesswoman. She joined Aramex, the largest logistics, courier, and package delivery company in the Middle East. Over the next five years, she learned the ins and outs of motivation, leadership, and customer service.
Abeer started Better Business because she recognized a need among small and medium-sized enterprises. Like other great entrepreneurs, she took what she learned from her first job and applied it to her own business.
Better Business is now the leading organization for management consulting and human capital development in Jordan and the surrounding area. Since launching in 2003, Better Business has given over 500 companies a brighter future.
Abeer credits Better Business's growth to consistency. She always makes sure to lead by example and encourages her team to practice what they preach. This allows Better Business to follow through on every promise that it makes to its clients.
A businesswoman for the modern age
The COVID-19 pandemic presented an important challenge for Abeer. By this time, after almost two decades in the business, the company was running smoothly. All of a sudden, COVID-19 restricted how they could run their programs and seminars. Instead of insisting on the status quo, Abeer met with her team to find a new course of action. Within three days, they pivoted their set-up online. Today, Better Business counts companies in Asia and the US among their clients.
Better Business is where it is today because Abeer is fearless. She constantly and continuously pushes boundaries to be all that she can be. In 2013, she climbed to Mt Everest base camp with a group of great entrepreneurs to help raise $1M for cancer research. It is this level of work and commitment that allows Better Business to help its clients be all that they can be.
proven
adjective
demonstrated by evidence or argument to be true or existing. "A proven ability to work hard"(of a new method, system, or treatment) tried and tested. en·tre·pre·neur
noun
a person who organizes and operates a business or businesses, taking on greater than normal financial risks in order to do so.
The Proven Entrepreneur – Success Stories share real stories from real entrepreneurs about how they got where they are.
https://provenentrepreneurshow.com
Listen to the episode here: https://podcasts.apple.com/us/podcast/proven-entrepreneur/id1561403604?i=1000552617930
Abeer Qumsieh Shares Secrets of Better Business Proven Entrepreneur