A Complete User Guide to Combine Small PST Files in Outlook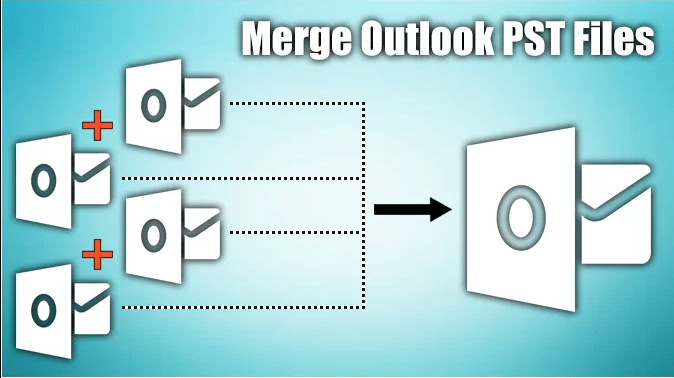 Almost every organization today uses Microsoft Outlook to send and receive an e-mail daily. A user with a large number of PST files in Outlook account can become bland and unsure of how to handle or manage multiple PST files in Outlook.

Read on to know the best and most successful way to merge multiple Outlook PST files into one for Outlook data management. In this blog, I will explain how to manage PST files, how to recover damaged PST files, and how to recover large PST files.
The PST files
When talking about email client applications, the first name that comes to mind is Outlook. It is part of the Microsoft Office suite and is also available as a separate application. Outlook is more than just an email client. In fact, it is a personal information manager that is widely used as an email client application, and also offers features like a calendar, task manager, contact manager, notes, diary, and web browsing. Individuals or organizations with multiple people working together can use the Outlook email client. The Outlook client can be easily configured with Microsoft Exchange and SharePoint servers, allowing multiple users to connect simultaneously.
Email management becomes difficult here…!
Having multiple PST files in your system can cause problems with mail management. As? The reason is very simple and clear. Anything in bulk is always difficult to manage. For multiple PST files, you must open them individually. Due to a large number of files, they may be misplaced or even deleted. We recommend always using a 1 GB PST file instead of 10 PST files. Multiple PST files can be combined into one file for easy management.
How do I manage multiple PST files in Outlook?
To manage PST files, you must follow all the rules mentioned in the following section:
#1. Locating PST Files
The first step in dealing with a large number of Outlook data files is to know the location of the PST files within Outlook.
Step 1- To see where your PST files are stored, go to Account Settings and then select the Data Files then click on the Open in Folder.
Outlook 2010/2007 PST Location (Windows 10)
C:UsersusernameAppDataLocalMicrosoftOutlook
Outlook 2016/2013 PST Location
C:UsersusernameDocumentsOutlook files
Outlook PST file location on older versions of Windows
Drive:Documents and Settings\Local SettingsApplication DataMicrosoftOutlook
#2. Creating Backups of PST Files
To manage your Outlook PST files, you can create backups of your PST files for easy restoration.
Step 1- Go to File >> Open & Export >> Import/Export
Step 2- Select Export to File >> Outlook Data File (.pst) and click Next
Step 3- Select the folder you want to export to and click Next
Step 4- Click Browse to select the location where you want to save the new .pst file
Step 5- In the File name box, type the new .pst file name and click OK.
Step 6- Finally, click the Finish button.
#3. Combine Multiple PST Files into One PST File
To manage multiple PST files in Outlook, the best solution for users is to combine two PST files into one. Merging Outlook .pst files into one has many advantages. –
Huge PST files are difficult to manage and process
Opening multiple PST files slow down Outlook performance
Single PST file is easy to open and manage
The user has multiple Outlook account emails You can easily access
PST files in one place and easily share them with others.
Know what you can do to manage Outlook PST files. Now let's talk about how to consolidate PST files into one.
How to merge and manage PST files?
Before continuing, please note that Outlook does not have a built-in utility to combine PST files. But it is an indirect manual method that can merge two PST files into one. There are two ways to perform this task: manual and automatic. The following sections provide full instructions for both methods.
How to manually combine multiple PST files The manual process of combining
Outlook .pst files into one are divided into two parts. First, you need to transfer all existing Outlook data files to the newly created file and then create a new empty PST file.
Step 1- In Outlook, click New Items and select the Other Items option.
Step 2- Click Outlook Data File.
Step 3- Specify a name for the new PST file and select the desired location for the file.
Step 4- Click the OK button to create a new PST file.
Step 5- Reopen your Outlook application and go to File >> Open >> Import.
Step 6- The Import/Export Wizard appears. Select Import from another program or file and click Next.
Step 7- Select the Outlook Data File (.pst) file type you want to import and click Next.
Step 8- Browse to the file you want to import into Outlook. Select Do Not Import Duplicates and click Next.
Step 9- Check the Import items into the same folder including the subfolders option.
Step 10- Click the Finish button.
The Merge PST tool
Softaken PST merge application allows users to safely and reliably merge Outlook PST files. All kinds of obstacles that users encounter while assembling files are tested programs that work. Any type of binding is not the tool to use this amazing PST integration tool. If a user wants the correct result of merging PST files, the user can use this amazing PST merge tool. This app always provides users with accurate results. Additionally, the application maintains application integrity and always delivers the desired result. An app is a specific application available to users. All Outlook PST files can be processed with this amazing tool. The user can create a new folder or save the merged files in an existing folder. Some integrations are also provided by the app. The compatibility of the app is great and users can use this tool on any version of the Windows operating system.
Summary
The blog provides the information about the merging of the Outlook PST files. It is all up to the users to select their choice method in order to follow the merging of the PST files. The app do provides a convenient merging process while using the Merge PST tool.