5 Things to Ask a Website Development Company Before Hiring Them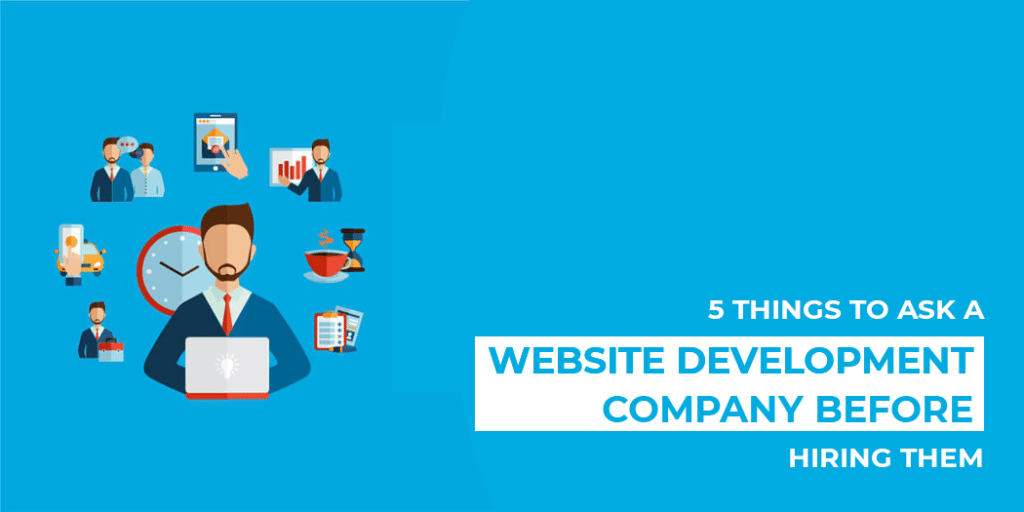 When you're ready to get a website built, you might start looking around at different companies. But instead of going with the first website development company you find, it's important to make sure they have the experience and expertise necessary to create a site that gives your business the exposure it needs. Here are five questions you should ask potential web design companies before hiring them to build your website.
1) Who are you?
When you are interviewing potential candidates, ask them if they have experience in your industry or line of work. You may want to hire outside help, but only choose candidates who are qualified for your needs. If not, you could be putting your business at risk. Asking these types of questions can help weed out unqualified candidates and lead you to someone who is more experienced with what they do. Make sure that they have experience in your industry or line of work before proceeding further into any negotiations with them.
 How long have you been in business? How many customers do you currently serve? How would you rate your customer service? After asking these types of questions, you should be able to get an idea as to how much experience and reputation they have within their line of work. You can also begin seeing if their reputation for customer service is good or not by reading reviews and testimonials from other customers who may have used their services in recent years.
2) What makes you stand out from your competitors?
This is where you get creative. Why are you different from every other firm in your industry? A website development company that can't articulate why it's different isn't going to win over any new clients. Tell potential customers why you stand out and why they should choose your firm. For example, We pride ourselves on meeting client expectations and exceeding them every time, even if that means doing everything we can personally.
 One way we ensure that we meet and exceed expectations is by keeping regular office hours. So if you ever need help with your website development project, call us and we'll be there before you can pick up your phone. Since we're locally owned and operated, our team will provide you with top-notch customer service from start to finish. It doesn't matter what time of day or night you call, someone will always be available to speak with you.
3) How will I be billed?
Websites cost money, and it's important to know how you will be billed. Some websites deduct from your credit card for each time you make a change, which could get pricey if changes need to be made frequently. Others offer service packages where you pay an initial amount and can make unlimited changes at no additional charge. Find out what kind of billing your website development company offers before hiring them.
 To save yourself from unexpected fees, ask how your website development company plans to bill you. How often will you be charged? What kind of costs can you expect? A professional will have no problem answering these questions for you. And if they do, beware: they may not be as reliable as they seem.
4) Do you have good references?
The best indication of how someone will perform is by finding out what their past clients have thought about them. This doesn't mean you should call them all, but if they can provide good references, it should be a good sign. The worst thing you can do is hire someone that no one has heard of or that refuses to give out any information on their previous work. If there are any websites that feel similar to yours, spend some time looking at them and see if you like their style.
 If you do like their style, ask them if they could do something similar for you. If they're not willing or capable of doing that, then consider whether or not that is someone you should be working with. If they are able to provide references and there are similar websites out there already, it's probably because other people have already trusted them enough to work with them before.
5) Can I meet in person?
It may seem old-fashioned, but in person meetings can be very useful when it comes to establishing good working relationships. It's easier for potential clients and companies alike to assess each other when they can look into each other's eyes and see each other's body language. By meeting in person you establish trust and prove that you're serious about working with them.
 If it's not possible for you to meet in person, don't hesitate to request online chat or phone calls. This will give you an opportunity to get acquainted with your website development company and establish your working relationship with them. However, keep in mind that email is more of a convenience medium than it is for establishing trust.