5 Essential Skills Every Soft Skill Trainer Should Have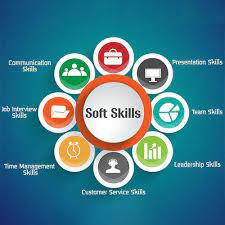 Soft skills are becoming increasingly important. For example, the Bureau of Labor Statistics predicts that by 2020, 70% of all jobs will require some form of interpersonal or customer service skills. In addition, the McKinsey Global Institute reported and indicated that the global demand for soft-skill workers will reach 675 million by 2030, more than double the 2015 level of 322 million.
A survey of over 1,000 HR professionals found that 74% of respondents said that they believed soft skills were more important than hard skills. 93% of HR managers prefer candidates with strong, soft skill sets over those with high education or experience. 86% of executives say they have trouble finding people who have both hard and soft skill sets.
Qualifications of a Soft Skill Trainer
Soft skills are essential for an individual's success in any field. They are crucial for the success of an organization as well. A soft skill trainer trains individuals and organizations on these skills. A soft skill trainer trains people on skills unrelated to a specific profession. These skills can be communication, emotional intelligence, or leadership.
These trainers usually have a background in psychology and social sciences. They also have experience in training others on soft skills in the past. A soft skill trainer needs to have the knowledge and experience that will allow them to understand better what people need to learn and grow.
A soft skill trainer should have the following qualifications:
A bachelor's degree in psychology or sociology or similar degrees

Years of experience in the field

Certification from an accredited organization
Job Role and Responsibility of a Soft Skill Trainer
The job role and responsibility of a soft skill trainer is to design, develop, and deliver training programs designed to improve employees' communication skills. A Soft Skill Trainer's job is to train people to use their communication skills in the workplace. They help their clients with things like public speaking, presenting ideas effectively, and how to deal with difficult people.
A soft skill trainer is a person who trains people in soft skills. These skills include but are not limited to communication, leadership, and interpersonal skills. Soft skill trainers are usually employed by corporations or organizations that want to provide their employees with the necessary tools to excel in their job roles. 
Soft skill trainers usually work closely with the managers of the company. They are responsible for training all employees on how to communicate more effectively with each other and be more effective leaders.
The responsibilities a soft skill trainer may have is as follows:
Provide training on the basics of soft skills

Conduct workshops and seminars on soft skill topics

Coordinate with external partners to conduct training programs

Design and implement soft skill training curriculum for employees

Collaborate with HR teams to come up with new training programs
Skills Required to be a Soft Skill Trainer
There are many different skills that a Soft Skill Trainer may need to have to be successful in this position. Some of these skills include communication, empathy, and listening. These are all skills that can be learned over time through experience with various people and situations. Any potential Soft Skill Trainers need to consider what skills they already possess before applying for this position.
Here are the top 5 skills a Soft Skill trainer must have – 
A soft skill trainer needs emotional intelligence because they need to be aware of their feelings and those of the people they are training. This awareness helps them be more successful in their job because it allows them better to understand the needs and goals of their students.
Having high emotional intelligence helps you understand your students better and how you can best help them improve their soft skills. It also enables you to know how your own emotions may affect how you interact with your students.
Interpersonal skills are essential for any type of business setting. Many people may have good technical knowledge, but they lack the interpersonal skills to connect with others and get their points across effectively. Interpersonal skills help build relationships with others, which is essential in any workplace environment. In addition, they can help to diffuse difficult situations and create a more positive work environment.
The ability to work with people and create a positive working environment is a crucial component of the job. The trainer must establish rapport with their trainees, have empathy for their struggles, and be able to motivate them to improve. Likewise, the trainer must establish a connection with their trainees, have compassion for their efforts, and be able to encourage them to improve.
Communication skills are essential for any professional. It is not just about conveying your point but also about listening and understanding others. This is why communication skills are a must-have for soft skill trainers. The importance of communication skills cannot be overstated, and it is one of the most sought-after soft skills in the workplace today. 
Communication skills are essential to any profession, and they can be used in various ways to make an individual more effective at their job. Communication is a two-way process that involves sending and receiving information, so good communication requires both speaking and listening and being able to express oneself effectively verbally or nonverbally.
In today's competitive job market, companies are looking for people who can solve problems. A soft skill trainer needs to have problem-solving skills to teach the soft skills to their students. A soft skill trainer should be able to identify the student's learning style and adapt their teaching methods accordingly. They should also be able to differentiate between a student's weakness and a student's strength and tailor their teaching methods accordingly.
The problem-solving skill is essential because it enables trainers to solve problems as they arise. They need this skill to resolve conflicts that may happen among students or between the trainer and a student. Trainers who have these skills will be able to develop relationships with their students, and they will also be able to motivate them to learn more effectively.
Teamwork skills are essential for soft skill trainers because they need to work with people from all levels of the organization. They need to get along with everyone, which is not always easy. A soft skill trainer needs to be able to have empathy and understanding for their clients and understand the company's culture and expectations.
Soft skill trainers also need communication skills to effectively communicate with their clients and colleagues. Teamwork skills are essential to having good communication and collaboration skills. The Soft Skill Trainer needs to build rapport with team members by establishing trust, listening attentively, and providing feedback.
How and Where to Learn
Soft skills are an integral part of our lives. They are the skills that help us interact with people and make relationships. They are skills that assist us in our careers and our personal lives. The first step to learning soft skills is to find a book on the topic you want to know about. You can also find online courses or podcasts that teach soft skills in detail and provide more information than a book would be able to do. Of course, there is no substitute for experience, but we can learn a lot from books, magazines, blogs and other resources on soft skills. We can use these to supplement what we learn from experience and also get ideas on how to approach situations and people.
Here are some options for you to consider based on your preferences:
Self-Guided Websites and Courses

Books

Virtual Classes

Non-Virtual Classes

Starting Your Projects
The free course offered by LearnVern is an online course that provides soft skills training to people worldwide. It is a course that has been designed by experts in the field of soft skills development, who have years of experience in teaching soft skills to students and professionals alike. The course covers different topics such as public speaking, problem-solving, and time management.
Course participants will learn how to communicate more effectively and succeed in their careers. They will also be able to develop their leadership skills to provide a better work environment for themselves and their team members. Moreover, the course comes with lifetime accessibility and mobile access. Learners will also get a chance to earn an NSDC Skill India certification after completion.
Conclusion
Soft skill trainers teach people how to communicate effectively, manage stress, deal with difficult people, and other similar topics. They also help them develop these soft skills through workshops, seminars, coaching sessions and one-on-one sessions. In addition, soft skill trainers have a wide variety of career options. For example, they can work as freelancers or work with companies as employees or contractors.
Soft skills are the skills that are not taught in schools. Instead, they are the skills that one learns through life and are needed to succeed in many professions. Soft skill trainers teach these skills to students and professionals to help them achieve their goals and get better jobs. The career scope of soft skill trainers is extensive. They can work as coaches, consultants, teachers, or even entrepreneurs. The choice is theirs.