5 Creative Ways to Assess Candidates in Job Interviews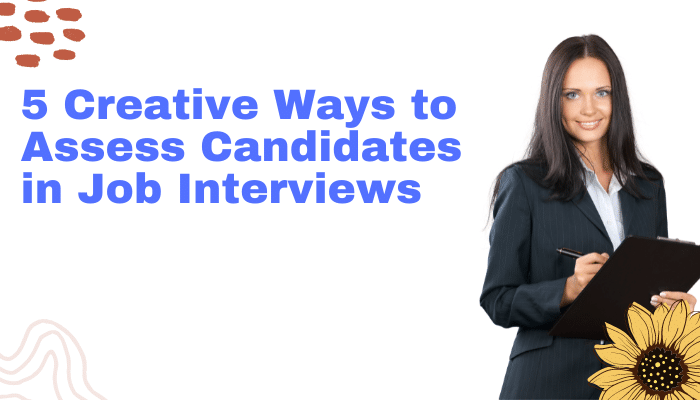 What are the common assessments used by interviewers to decide whether or not they want to hire a candidate? Well, it depends on the company and what they're looking for. But there are some creative ways to assess candidates that often catch people off guard. Here are 5 job interview tips:
1) Find out what the applicant would do differently if they were in charge of the company
This is a great one, and many hiring managers don't use it. It's not only a great icebreaker, but it gives the candidate both a chance to express their point of view, and it helps employers see what they value in the position.
2) Ask the applicant to provide feedback on a mistake made by your company
The candidate is likely to bring up something that's gone wrong in the past and what they would do differently if they could do it all over again. At this point, employers can offer advice on how to handle mistakes, hold people accountable for poor decisions and give feedback on the company's process for solving problems.
3) Watch the interviewee's behavior outside of the room
Most people assume that being in an interview room is the only way to judge how a candidate conducts themselves. But there are many ways to be evaluated during their entire work life, not just when interviewing for a position. This may be by how they are at the office or in the field or through observations about their behavior at conferences or other events.
4) Take "human metrics" into consideration"
It's essential to go beyond the skills and experience for a job and get a sense of the person behind the experience. It's about understanding their personality, attitudes, and ultimately what will make them a great fit. This is even more important for jobs that require a lot of interactions, such as customer service or sales.
5) An excellent set of critical thinking questions that elicits your values and priorities
These are great questions to ask a candidate. Whether you have a lot of experience in the role or you're just getting started, these questions can reveal what matters to them and highlight skills that will be important as they grow in their new role.
So those are our top 5 creative ways to assess candidates during interviews. As you can see, they require very little time, money, or effort. But they can be extremely valuable in improving your job interview practices. If you'd like to learn about our Video Interviewing & Recruiting Platform, contact us to learn more on candidate assessment 2022!